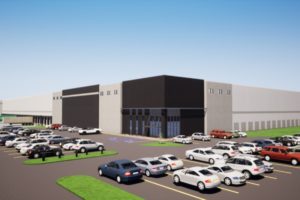 When a Southwest Michigan development group received more inquiries in 2021 for industrial spaces 1 million square feet or larger than it had in the last 10 years combined, leaders knew they faced a challenge, as well as had a business opportunity on their hands.
"Michigan's industrial market has lacked inventory of large-scale industrial spaces, which frequently caused companies to weigh their options out of state," said Greg Dilone Jr., director of development for Portage-based Clark Logic LLC and Great Lakes Capital, a real estate private equity firm based in South Bend, Ind.
However, the two companies have been partnering to add new industrial inventory in Southwest Michigan by developing speculative projects through Industrial Partners USA LLC, a joint venture the two firms formed in 2019.
Industrial Partners USA recently completed the first phase of the joint venture's inaugural project in Battle Creek, which has been fully leased out. They expect to break ground in April 2023 on the second phase of the project, located off Watkins Road and Mercury Drive, that is set to add 243,000 square feet of space. In addition, Industrial Partners USA is currently working to develop a 36.5-acre industrial facility in Portage, a 110-acre site in Pavilion Township, and two projects in the village of Mattawan.
When Clark Logic initially considered the possibility of developing new industrial properties, company President Jamie Clark was ambivalent about the idea, but came around when his diversified warehousing, logistics and real estate services firm joined the Battle Creek project.
"After being awarded the opportunity to construct the Battle Creek site, the realization of the opportunity to expand Clark Logic — then only 2.5 million square feet of facilities — became ever clearer, and we hit the gas pedal on gaining a foothold with the strongest sites along the I-94 corridor in Kalamazoo," Clark Logic President Jamie Clark told MiBiz in an email. "We now have over 4.5 million square feet and are growing more rapidly than ever."
Industrial Partners USA now has more than 300 acres of land under control in different phases of industrial development, and the partners are working to secure an additional six sites for another 1,000 acres of expansion, Dilone said.