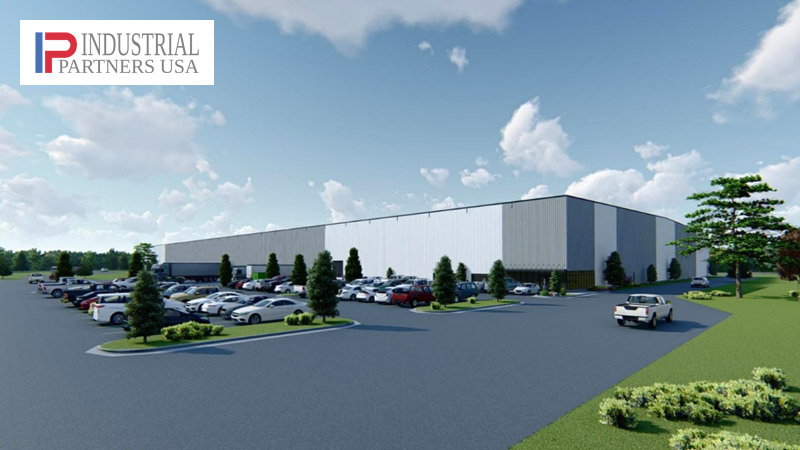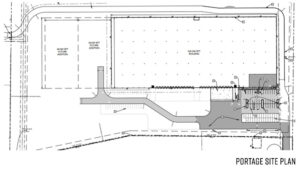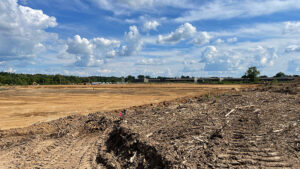 Industrial Partners USA (IPUSA) is breaking ground on a speculatory industrial facility along the 800 block of East Milham Avenue in Portage, Mich. With 36-foot clear heights, the 240,000-square-foot facility is the first speculatory development Portage has seen in decades. A joint venture between Great Lakes Capital of South Bend, Ind. and Clark Logic of Portage, Mich., IPUSA has been working to deliver speculatory industrial development along the I-94 corridor to Greater Kalamazoo. Since early 2021, the company has grown their 55 acres of sites to what is now more than 280.
"Our first development was with Battle Creek Unlimited at 211 Watkins Road, which allowed us to test the market and build relationships that fostered additional opportunities," said Greg Dilone of Great Lakes Capital. "We were able to select our way through over 30 applicants over the first year of construction and today, we have a successful marquee project that has proven delivery to Southwest Michigan."
The project has been supported by the City of Portage through a brownfield plan that will utilize tax increment revenues to offset nearly $2 million in non-environmental site preparation activities. IPUSA worked with Michigan Growth Advisors (MGA) on incentives for the Portage project.
Speculatory buildings start out as a shell with all infrastructure installed and no floor poured. This allows for the delivery of a turnkey solution to tenant's opportunities within 60-to-90 days of design approval. Having a development ready, the delivery time of a final product is nearly cut in third in the Southwest Michigan market. Kalamazoo has been out of space for the last three years and as the market gets tighter, tenants are looking for a resource that can be delivered in the shortest possible timeline.
"In an environment where both construction costs and interest rates are accelerating at levels that haven't been seen in decades, the need to creatively structure incentives to fill the financial feasibility gap becomes more critical than ever," said Joe Agostinelli, managing partner of MGA. "The team at IPUSA has driven their approach to acquire logistically advantageous property and assemble a team that can deliver a finished product that exceeds the tenant's expectations at a price point that can be absorbed in the market."
"Site plan approval and great timing have been major contributors to our success," said Jamie Clark of Clark Logic. "Working with Southwest Michigan First has helped with our reach in the area and they continue to provide support for our projects and initiatives."
"Industrial Partners' attention to detail, willingness to take on the troublesome sites, and ability to read the marketplace demand has made them a critical partner of ours," said Southwest Michigan First's Director of Attraction and Research, Jared Lutz. Southwest Michigan First provides site selection and business growth services to companies looking to relocate or expand into Southwest Michigan.
"As we continue to forge forward with development, we are excited to see how we can become a more integrated partner with the region's major employers and economic teams. The Kalamazoo marketplace had already provided success and we continue to look forward to continued growth into the future," said Jeff Smoke of Great Lakes Capital.
For more information, please contact Greg Dilone at (313) 461-8673.
About Industrial Partners USA
Industrial Partners USA is a joint venture between Clark Logic and Great Lakes Capital. We work with you to fully understand all aspects of your real estate development needs. From economic incentives to navigating city approvals through construction, our team is with you from inception.
About Southwest Michigan First
Southwest Michigan First is an organization of privately funded economic development advisors who act as the catalyst for economic success in Southwest Michigan. Founded in 1999 on the principle that the greatest force for change is a job, the organization works across all industries throughout the seven counties making up the Southwest Michigan region.