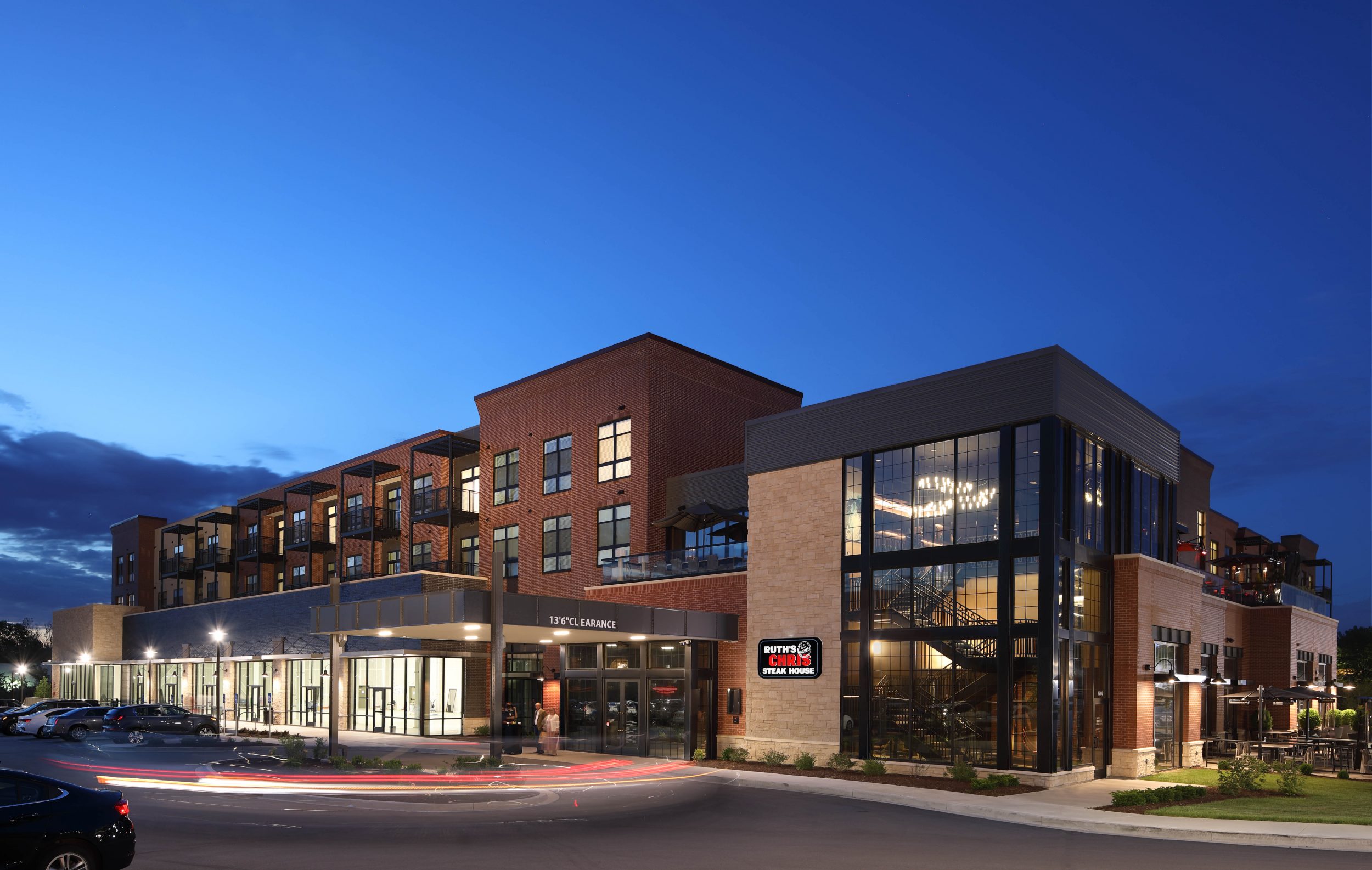 Designed as a "unique, upscale urban village," WildHorse in Chesterfield is the first mixed-use development to open among several planned along Wild Horse Creek Road.
Developed by a partnership between Tegethoff Development and Great Lakes Capital, the project is anchored by a a 128-room AC Hotel and conference center that opened in March, along with a 188-unit luxury apartment complex and about 23,000 square feet of ground-floor commercial services, both of which have been fully leased since the project opened in April 2021.
"We look for 'hidden gems' where we can produce a unique living environment with all of the amenities and advantages that today's consumers are seeking," said Jeff Tegethoff of Tegethoff Development.
The commercial services space at the site at 16511 Wild Horse Creek Road is highlighted by a 16,000-square-foot location of Ruth's Chris Steakhouse with multiple rooftop bars and patios. "The restaurant is the largest location by square footage of the chain's 147 locations," said the leasing agent, John Shuff of Pace Properties. Christina White Salon opened at the site last year, and a Coldwell Banker real-estate office is being built out.
Great Lakes Managing Partner, Ryan Rans, said of the project, "The Wildhorse development is a signature, long-term asset for our team. It has been incredibly successful immediately out of the gate."
Construction on the commercial services part of the development finished early in the pandemic, when interest from tenants for almost any project came to a standstill. When commercial service leasing picked back up last year, Pace Properties brokers Shuff and Kate Grewe found that competition was stiffer, and rents higher, than it had been when leasing was originally scheduled.
"We were able to get a lot of velocity and have a lot of different tenants in early 2021 that prior to that in 2020, we didn't really see that there was a need for them," Shuff said. "At the end it worked out for the developer."
"The apartments showed high demand by fully leasing in seven months, while the standard lease-up period is typically closer to a year," said Brian Shelbourne, vice president of originations for Merchants Capital, which refinanced the multifamily part of the development in the fall for $71 million.
About this project
Owner/developer: Jeff Tegethoff/Tegethoff Development; Great Lakes Capital
Project address: 16511 Wild Horse Creek Road
Cost of project: $85 million total, including $55 million construction for the apartment complex, later refinanced for $71 million
Financing: Private funding, with $39 million held by CIBC. Refinanced in fall 2021 by Merchants Capital.
General contractor: Brinkmann Constructors
Architect: TR,i Architects
Engineer: Stock & Associates
Interior designer: RD Jones
Leasing brokers: John Shuff and Kate Grewe of Pace Properties